Meet Fiskano's jigger caught South African Squid. This product, Latin named as Loligo vulgaris reynaudii, is also known as Chokka. You can recognize Calamari by the arrow-shaped fins on the end of the hood. Calamari has a tender and delicate flavor when it's properly cooked. It has low oil content and its texture is firm and white. You can prepare the squid as whole hoods and tentacles or in strips and rings. Most restaurants deep-fry the Calamari but its also an excellent product to marinade and cook. You can also cook a Calamari in its own ink with rice and create the famous 'black rice' dish.
No matter how you prepare Calamari, the fish is popular all around the world. This product with its tender taste can therefore be sold to many different types of restaurants and retailers.
The squid is being caught in the cold pristine Atlantic Ocean (Fishing zone FAO 47) and is packed whole round and sea frozen on board of the vessels just to meet the highest standards, guaranteeing superior class 'CJ quality'. Available in the size <18, 18-25, 25-30 and 30-+ cm tube length. The product is chocolate in color, has a tender and sweet taste and will come to you as a frozen block.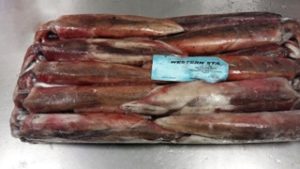 Read more